Hong Kong has long been one of the major banking locations in the world. It used to be a place where companies set up bank accounts in order to operate in the Far East. But now companies are reporting that it's more difficult than ever before to open an account in Hong Kong.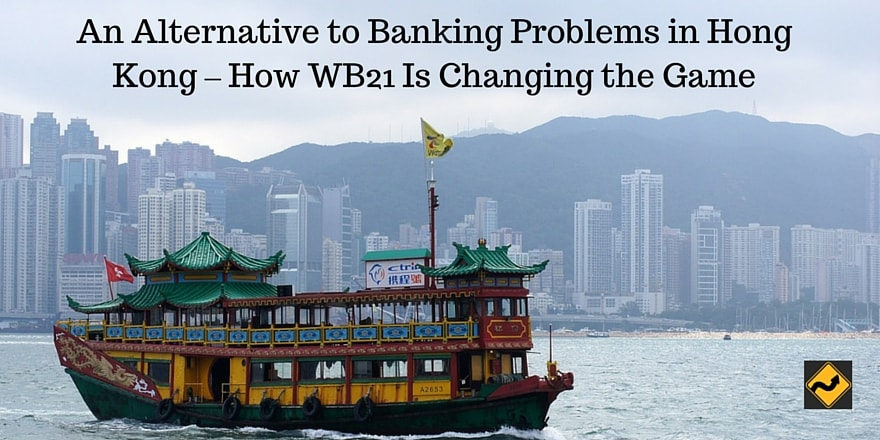 WB21 provides an alternative for many offshore companies struggling to set up bank accounts. WB21 is a Financial Institution, offering real-time online opening of bank accounts. Their platform www.wb21.com provides every service you have under your current bank account. Accounts can be set up in 18 different currencies. International wire transfers are low cost and extremely fast. It's quickly becoming the perfect alternative to the traditional banking system.
Why is Hong Kong So Tough?
Big banks like Standard Chartered and HSBC have been hammered by US regulators. HSBC was hit with a fine of 605 million Hong Kong Dollars. This has led to some serious problems when it comes to opening bank accounts. Both banks have fallen afoul of US regulators in recent years.
As part of its 2012 Deferred Prosecution Agreement, HSBC had to employ a monitor and an army of lawyers who crawl all over the bank to ensure it has what it considers an appropriate level of compliance. A bad report from the monitor could result in prosecution and the loss of its US banking license.
Opening a bank account in Hong Kong is nearly impossible - unless you know about WB21.
Click To Tweet
A business attempting to open an account now has no idea whether they will be accepted or not. It could take up to four months for a decision, and the average is two months. For a business, waiting this long to receive basic banking facilities is unacceptable.
In some ways, it's understandable that Hong Kong would be so conservative, but they are only hurting their economic potential.
Can You Use an Agency?
Ordinarily, the answer would be to approach an agency to handle everything for you. They tend to have more clout than applying for a bank account independently. The problem is that they are experiencing the same problems. Even the most well-respected agencies in Hong Kong are having to wait months for a decision.
At this point, agencies can no longer guarantee their clients will receive an account. And this makes doing business in Hong Kong no longer as viable as it was before.
What are People Doing Instead?
Many people are simply giving up and leaving. Hong Kong is no longer the business haven it once was. It may be tough for a lot of companies to do this, but it's quickly becoming the only option. Singapore is the main competitor taking advantage of Hong Kong's weaknesses.
Hong Kong is quickly falling behind its regional rivals because of U.S. banking regulators.
Click To Tweet
Agencies report that in Singapore the banks actually come to the agents, and they can open an account in a matter of days. And organizations are able to take advantage of the same banking facilities as they normally would.
But What About Companies in Hong Kong?
Most companies don't have the option to simply move to Singapore. There are a lot of advantages to positioning yourself in Hong Kong, banking problems aside. If you want to remain in Hong Kong, this is where WB21 comes in. Its banking platform allows Private and Business Customers from 180 countries to open accounts in minutes. No physical meetings are required.
You can trade in over two hundred countries around the world, and in close to 20 currencies. New countries and currencies are being added all the time. It makes it one of the big competitors to the traditional banking system.
The best part is transactions are carried out instantly, so you can make a payment and the client can have it in their accounts that same day.
What's the Fate of Hong Kong?
For now, WB21 is best placed to take advantage of a system that no longer works for the benefit of businesses. The sad fact is that Hong Kong is in turmoil, particularly when it comes to politics with their larger neighbor China. Hong Kong has shown no movement to solve the problem.
Part of this is due to the banks rather than the regulators. The banks are so scared of receiving huge fines because they opened an account for the wrong business that they have simply closed their doors entirely. And this is opening up competition from the Internet sector.
Conclusion
With the help of alternative banking platforms, you have the chance to do business in this corporate hub. This mess doesn't look like it's going to be cleaned up anytime soon, so it makes no sense to try to wait it out.
How will you get around the banking problems presented by Hong Kong today?
The following two tabs change content below.
Small Business Marketing Strategist
at
GrowMap
Gail Gardner is the founder of GrowMap.com. She is a Small Business Marketing Strategist who mentors small businesses, bloggers, and freelancers. After 23 years in the field with IBM and 5.5 years managing AdWords accounts, her focus shifted to small business marketing strategy. GrowMap.com is listed by Cision as a Top 100 Site for Marketers and has received three Small Business Influencer Awards from Small Business Trends. Named by D&B a Top 50 SMB Influencer on Twitter, you can follow Gail
@GrowMap
and on
LinkedIn
.
Latest posts by Gail Gardner (see all)