As I observed in a recent post, it's important for freelancers to take vacations on a regular basis. Small business owners should remember to do so as well. But when you do, we want to make sure not to overspend. Here's how.
I've had quite a few opportunities in my lifetime to travel, both on vacation and for other projects. Once I went on a package tour to London and Paris. Another time, I went on a cruise in the Caribbean.
Those experiences were certainly enjoyable, and I'm very thankful for them. But the best adventures I've had traveling have been those that were the least structured.
They were when people who lived in the places I was visiting told me where I should go and what I should do. They were when I got to visit the countryside of Oxfordshire, the (non-touristy) markets of Ankara, Turkey, and the local restaurant that my friend took me to in Beijing.
And as far as accommodations go, there's nothing quite like being in someone's home. I got to stay with a friend of mine when visiting Brussels, Belgium. Her parents' kindness in hosting us was a significant part of what made seeing that city special.
Even if you don't have friends or family wherever you're traveling, you can still help yourself get a more personal experience by opting for a vacation rental, rather than a hotel.
While there are a variety of companies that offer this service, one up-and-coming, low-cost rental provider is Tripz.
No Extra Vacation Rental Fees
One of the primary advantages of Tripz is there are no extra vacation rental fees for either guests or hosts. Most vacation rental companies charge customers a booking fee for renting. This fee is a percentage of the total cost of the reservation. Many also take a commission of the rental price from the owners.
Because of the fees the companies charge, there can be over a $500 difference between what the traveler pays and what actually goes to the person renting out his or her property. However, with Tripz you avoid the hidden or extra costs many companies add and which most people understandably hate.
Booking with Tripz
Tripz offers housing to people within a broad price range. Depending on what you're looking for, you can find accommodations from $55 to thousands of dollars per night.
To find a rental in a certain part of the country (or world), you simply go to Tripz's site and select where you would like to vacation. Enter the dates when you plan to take your trip. You can then narrow your search by selecting the type of accommodation you would like, such as an apartment, villa, or condo.
You'll then specify the minimum number of bedrooms and bathrooms you need, as well as the number of guests you are looking to house. Finally, you will select your price range.
For example, let's say you wanted to vacation in Utah toward the end of January. Here's what it would look like if you selected January 18th through the 22nd and you wanted two bedrooms, one bathroom, and four guests. You're open to any type of housing and are looking for a price range of $0 to $250 per night.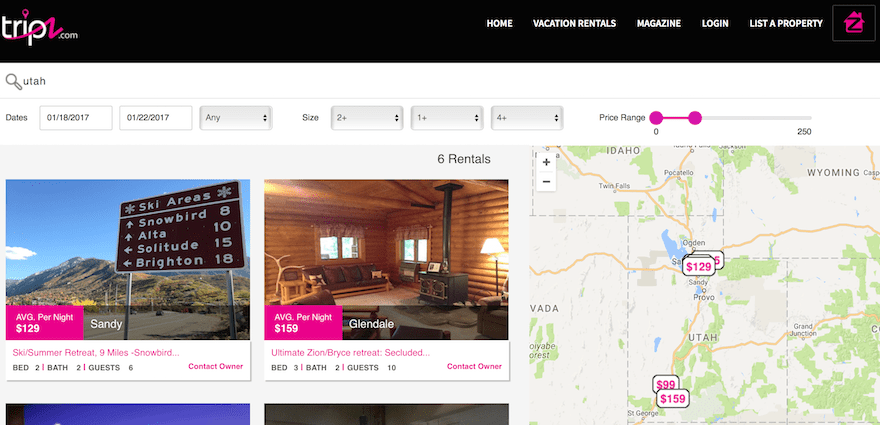 Six results appear across the state, the two most inexpensive at $99 per night and the most expensive costing $159 per night. If you have a group of four people splitting the cost of your trip, these prices are more than affordable. And as you can see, the two listings above house over four people.
If you like one of the properties in the results (such as the cabin at Glendale) then you can click on it to see pictures and a detailed description.
You can also find out the available amenities.
What's more, if you want to find out more information about the rental property, Tripz allows for direct communication between the traveler and rental provider. You can reach out to the owner by phone or by email.
Listing Your Property
Those interested in making some money by renting out their properties don't need to worry about paying a commission fee to Tripz. Rather, they pay $399 for a 12-month listing that includes benefits such as a user-friendly dashboard, the ability to include links to their personal websites on their listings, and unlimited photos and text. After the year is over, owners have the choice of whether or not they want to renew their Tripz subscriptions.
Tripz also provides account representatives to help property owners manage their accounts for the duration of their subscriptions. And for those who need to communicate internationally about their listing prices, Tripz has a currency converter on every listing page.
Golden Opportunity
I grew up 45 minutes away from Augusta, GA, home of the Augusta National Golf Club. Every year, the Masters Tournament brings in people from all over the country and the world. In doing so, the tournament provides a way for locals to make money by renting out their homes.
It's also a chance for the attendees to stay somewhere more comfortable than a hotel. Actually, the vacation rentals enable visitors to have somewhere to stay period if all the hotels are sold out.
You might or might not live in a city that hosts an event of such opportunity. But you might have a property that is lying unused for a period of time. If so, renting it out is something you should consider.
And for those looking to travel, a vacation rental with a company such as Tripz could be a great choice. It's a cost-effective way of helping yourself get a truly local experience wherever you want to explore.
The following two tabs change content below.
Jessica Mouser
Jessica Mouser is a writer, public speaker, and avid reader. She is fascinated by how a culture's beliefs shape its technology and art.
Latest posts by Jessica Mouser (see all)