Search engines continue to grow in capability and complexity every year. The criteria for ranking websites have increased in number.
SEO is standard practice to be competitive in your niche. However, knowing how to satisfy user intent remains the largest part of the equation.
Establish E.A.T. (Expertise, Authority and Trust) in the content you produce to improve your ability to satisfy search intent.
Growing Demand for High-quality Content
Search engines have improved the speed in which they are able to assess and categorize the content of a website.
This has led to a greater emphasis on demonstrating expertise, authority and trust.
The SERP (search engine results page) is basically the finished product that search engines offer.
This means they are always looking to produce the best results that will completely satisfy user intent.
A search engine will extract the meaning of your content when presented with a query.
This allows them to determine whether your website has the ability to provide an adequate solution.
This fact alone has led to a steady increase in the quality of content that websites have been producing.
The average word count on top ranking sites has grown to a little less than 2000 words.
This is the result of a growing effort to cover as many relevant ideas as a keyword search represents.
Search engines prefer to display websites that have an expert opinion in order to provide the best answer to a query.
To be regarded as having expert opinion, your website needs to be able to demonstrate depth in a keyword topic.
Use Keyword Clusters to Demonstrate Expertise
Keywords are used to connect ideas and signal the importance of that phrase to your content.
The concept of keyword clustering demonstrates to search engines the depth of your keyword topic.
This also links relevant information for users who land on any of the cluster pages.
The widespread coverage of related topics contributes to demonstrating expert opinion.
List Idea Buckets
The first phase of keyword research is listing your keyword idea buckets. This will allow you to group the topics that are strongly associated with your keyword.
List the main keywords that represent your products or services. Underneath each major keyword, list all of the things that are involved in providing that service.
For example, if your niche is elevator repair that would be your main keyword topic.
The subtopics that you would explain within that content would include more specific types of repairs such as paneling, ceiling hatches, operational software, door sensors, etc.
Create Depth in Your Keyword Topic
The idea behind keyword clustering is to publish content that further explains the subtopics used in your main keyword topic.
In addition to publishing a page on elevator repair, you would also need to publish content that goes deeper into detail.
Items that you are actually repairing such as door sensors, paneling, ceiling hatch, etc, would need separate pages.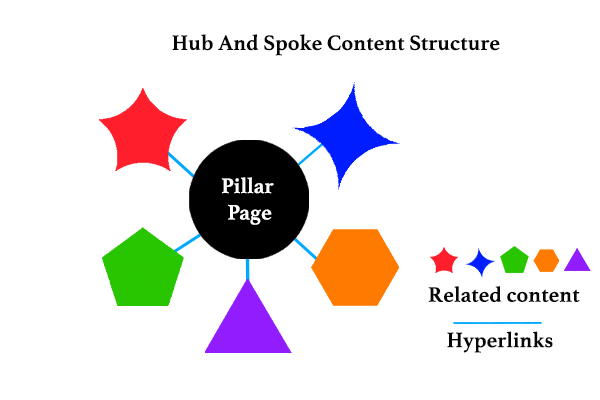 Image source: Digital Ducats https://digitalducats.com/seo-consultant-toronto/
Use focused articles as part of your cluster to allow you to target highly specific search terms.
These articles will ultimately send visitors to your service page.
Suppose an elevator door sensor fails. A potential search phrase would be: repair door sensor on elevator.
Your website is a likely candidate to be displayed in a search result based on the expertise of your content.
Structure your site using keyword clusters to create depth and expertise in you keyword topics.
This is one step towards the ability to satisfy user intent.
Earn Authority and Trust
Content alone is not enough to maximize the traffic your website generates. There is the element of authority and trust that counts towards your ranking.
This is why adhering to best practices and implementing a link building strategy will start the needle moving on the ranking of your website.
Trust
Best practices simply mean following the guidelines Google has set forth in producing the best results in the search results.
There are ways to manipulate the system. Many of those practices result in disciplinary action by Google.
Adhering to best practices will keep your site in good standing and avoid penalties and/or de-indexation.
Authority
Authority refers to the strength of a domain or page in terms of its ability to rank. Google used to rate the strength of pages through a system called PageRank.
They discontinued making that information available to the public.
Google still uses a system of measuring authority; however, the exact details to that are unknown.
The most widely accepted forms of measuring authority come from companies such as Moz, Ahrefs and Majestic.
Moz uses DA (Domain Authority) and PA (Page Authority).
Ahrefs uses DR and UR (Domain Rating) and (URL Rating).
Majestic uses TF (Trust Flow) and CF (Citation Flow).
All three companies base their authority ratings on the backlinks of a domain. Link building will increase the value of all three metrics.
Link Building to Improve the Authority of Your Site
A website needs backlinks as evidence to attest to credibility. When another website links to yours it's a form of endorsing your content.
In recent years, Google has become stricter on the methods of how your site acquires backlinks, making link building a strategy that should be carefully considered.
It's important that your links come from websites that have a direct relationship with your content.
The ability of search engines to understand the contextual meaning has made this the standard.
A quality link is that which provides a user with additional information on the topic from the linking page.
High authority websites linking to a site improves the authority of that site.
Sites that have earned trust and established credibility through their own content and the quality of their backlink profile become high authority sites.
For example, a link from Forbes should do more to increase your authority than a link from a brand new domain with no backlinks.
A link to another website in an unrelated niche holds no value to a user. This is understood by the search engine and therefore not considered a quality link.
Too many unrelated links to your site will actually pose a threat to your ranking.
Link building is crucial in establishing authority and ranking for competitive terms in your niche.
White hat methods are the most time-consuming; however. they are the safest option for long term ranking in the search results.
Improve the Ability to Satisfy User Intent
The number of ranking factors is somewhere in the hundreds; however, there are none as important as the content your site produces and the authority attributed to it.
The following two tabs change content below.
Christian Carere is an SEO consultant based out of Toronto. He is the founder of Digital Ducats Inc. which specializes in search engine optimization services to improve the quality and quantity of traffic.
Latest posts by Christian Carere (see all)