According to research from Into the Minds, there are many reasons why people start their own businesses.
These are the top reasons they give:
The desire for more autonomy
Recognition of a specific opportunity
The drive to bring a new idea to the market
So it's rare that an entrepreneur would start a small service business because they love keeping track of which clients owe them money.
As a result, accounts receivable management is often treated as a chore. Yet this can cause significant and potentially fatal issues for a business later down the line.
Handwritten systems and manually updated spreadsheets simply involve too much friction and error. Modern businesses that want to ensure they are run professionally need a better solution.
At the same time, it's understandable for owners to be apprehensive about making the shift to a full-featured app.
This is true even if they know it's logically the right thing to do. Change is stressful and requires a learning curve to get unfamiliar.
The truth is, however, that apps have now progressed to the stage where they aren't just replacing older systems. Some offer features that can drive significant benefits.
This is especially true of the most advanced small business management apps like vcita.
And when small businesses realize how much they could potentially streamline their accounts, it becomes a no-brainer.
Here are a few ways that using vcita helps small business owners and managers to streamline accounts receivable processes.
Auto-populating Invoices
Creating invoices can be a nuisance for small business personnel. Even when they are using a template, it often still needs to be manually filled in.
And then checked to verify there are no mistakes.
Mistyping a client's name can understandably lead to some offense being triggered. What's even worse is if they are sent a bill for services they never requested or at a higher price than they were expecting.
All it takes is for a frustrated customer to vent in a review online. Then one mistake can spiral dangerously.
When your billing engine is fully integrated with your service booking tools and CRM, this problem disappears, as everything is linked.
The invoice will populate with data pulled through from the customer record. The professional templates eliminate all of the hard work required when using a manual process.
This can be a huge time saver as well as reduce the potential for mistakes.
And vcita stands out here because it handles both the CRM side and the appointment booking side. So it's easy to pull relevant information into invoices automatically, even on a scheduled basis.
Automated Billing
Creating an invoice overcomes one hurdle. But sending invoices in a timely manner is also essential. It's easy to procrastinate on this job because of its administrative nature.
For such a menial and repetitive task, there should be a way to automate it to save a human being the trouble of doing it themselves.
And vcita offers a feature where accounts can be set up to send invoices to anyone who has a payment in "due" or "overdue" status at regular intervals.
You can also send direct payment links instead of an invoice. These allow clients to pay at the click of a button.
This saves them time in needing to add all of your details and therefore reduces the friction for them to transfer the funds.
Track Individual Customers
As customer bases grow, there's a negative side effect where it becomes harder to track individual customers.
The systems that worked for a business early on can leave them at risk of becoming overwhelmed.
Today, businesses engage with their customers across many platforms including email, phone calls, support tickets, social media, sms, messengers and comment threads.
This can make it hard to track whether or not an invoice has been sent. Knowing whether there has been any follow-up is even more challenging.
This can create all manner of awkward situations such as multiple employees pestering the same customer on the same day for payment.
Customers may begin to take a negative view of your company's professionalism and trustworthiness.
A business may even end up with customers who don't end up paying at all because nobody really knew what was going on.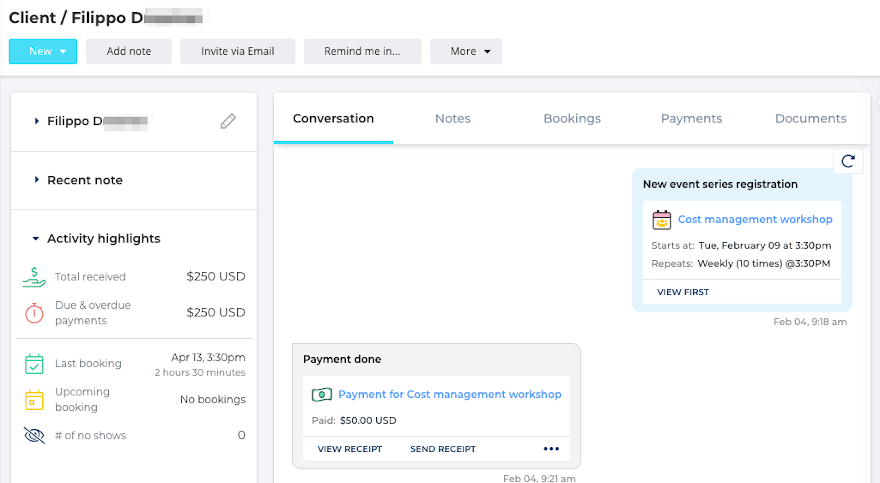 Using vcita, anyone with access can see every transaction and interaction with each customer in one timeline thread.
They can see everything they need to know in one place. This includes what has been delivered, what has been invoiced, and whether anything has been paid.
Team members no longer need to scramble to read through long email chains to find the crucial bit of information they need.
They can talk to customers with everything on the screen in front of them. And with vcita's client portal solution, the client can have easy access to the very same information.
Slice Accounts Receivable Data through Segmentation
Data can be a business owner's best friend or worst nightmare depending on how well organized it is.
Managing accounts receivable through custom spreadsheets will eventually hit a wall.
It becomes progressively harder to manage the ever-increasing pile of records. And simple formula mistakes can have dire consequences if used to make business decisions.
It doesn't have to be a disorganized mess, though, and it shouldn't be. Businesses can use software like vcita to do all the hard work.
It arranges the data into easy-to-understand dashboards. This allows business owners, managers and anyone else on the team with a need to know to get a good idea of the company's current financial situation instantly.
Records can be easily filters to see the most important information in real-time.
The amount overdue has a particularly prominent place, because it's so crucial to the health of any business.
It can serve as an alert system whenever there is a heightened risk of cash flow problems. Acting decisively can ensure timely payment to keep a business in the black.
It's easy to export, too, which will keep accountants happy.
Manage Packages and Subscriptions Easily
One thing that can hold businesses back from using an all-in-one program is the worry that their business model is too complex.
They think they need to keep their current system, because they don't know enough about how good modern systems are at handling all kinds of different businesses with ease.
In fact, it could be far easier to manage packages and subscriptions after migrating to new software.
Let's say you sell consulting packages offering 10 sessions for $1000. In a manual system, you'd need to keep track of how many sessions have been booked for when as well as manage whether payments and invoices have been sent.
With vcita, this all comes built in. Businesses can offer consulting packages on their website. The customer can pay securely. And both parties are able to track the sessions through automatic calendar invites and reminders.
Vcita can empower a business to create new income streams. So stop avoiding adding services such as package deals and subscriptions because vcita can easily manage it.
The knowledge that it can be painless opens up new doors of opportunity.
More Time for the Inspiring Stuff
Streamlining accounts receivable processes frees up small businesses to focus on what they are passionate about.
Business owners can sleep easily with a program like vcita which handles vital tasks flawlessly and automatically.
It's completely understandable for entrepreneurs to be apprehensive, but don't have to let the fear of the unknown stop them from modernizing when the benefits are so clear.
Image sources:
Top image: pexels.com/photo/crop-ethnic-trader-with-smartphone-and-laptop-on-bench-indoors-6347720
Other images: screen captures of vcita

The following two tabs change content below.
Small Business Marketing Strategist
at
GrowMap
Gail Gardner is the founder of GrowMap.com. She is a Small Business Marketing Strategist who mentors small businesses, bloggers, and freelancers. After 23 years in the field with IBM and 5.5 years managing AdWords accounts, her focus shifted to small business marketing strategy. GrowMap.com is listed by Cision as a Top 100 Site for Marketers and has received three Small Business Influencer Awards from Small Business Trends. Named by D&B a Top 50 SMB Influencer on Twitter, you can follow Gail
@GrowMap
and on
LinkedIn
.
Latest posts by Gail Gardner (see all)