You're all charged up after launching your business.
But a few months after the launch, your excitement starts to wane. You watch TV instead of fixing your broken product.
You surf the online waters instead of reviewing your customers' complaints. Then you spend a day tweaking your landing page instead of finishing yesterday's tasks.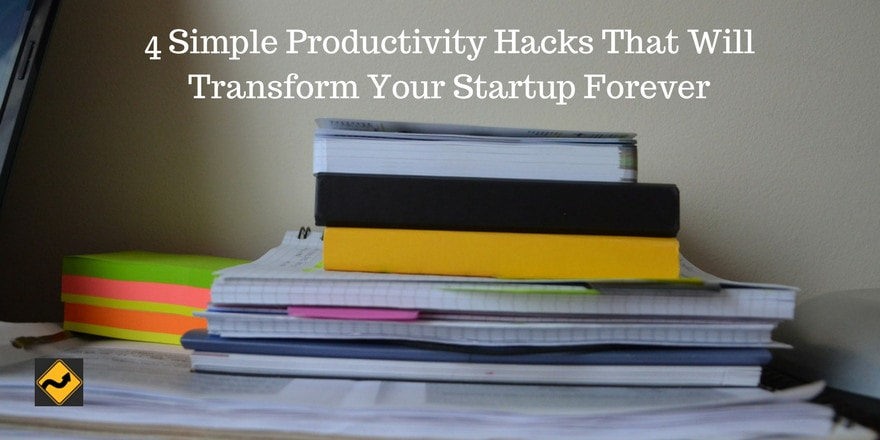 You're not producing anything, and your startup is dying, making $0.00 every month. God save your soul.
You might think that all you need to bring it back to life is some motivational guidance from an overpaid expert. Please don't waste your money.
All you need is a few simple productivity hacks that'll help you do the work necessary to transform your startup forever.
1. Set your goals (and stick to them)
Goal setting is one of the most important productivity hacks—if not the most important productivity tip—you need to improve your productivity and boost your startup's operation.
For one thing, setting a goal for your startup helps you stay alert on your business direction: Where it is now, where it is headed, and what needs to be done to realize your overall vision.
For another, it helps you stay motivated, fired up to keep going. According to Locke and Latham, goals affect individual performance through four mechanisms:
Goals direct action and effort toward goal-related activities and away from unrelated activities.
Goals energize employees. Challenging goals lead to higher employee effort than easy goals.
Goals affect persistence. Employees exert more effort to achieve high goals.
Goals motivate employees to use their existing knowledge to attain a goal or to acquire the knowledge needed to do so.
Whether you have a big company or you're a one man startup, you need to set real goals. They will serve as your roadmap to achieving your success.
2. Plan your daily tasks
Surveys from four industries in the U.K. reported a lack of planning as one of the major causes of project failure.
Every night before you go to sleep, plan your most important tasks for the next day. Doing this will help you map out—clearly—the path that you should take to achieve your business goals.
When planning, choose only three projects to accomplish for the day.  These are the projects that are crucial to building your business.
Treat them like pure gold. Roll up your sleeves and get them done in the morning. Let's talk about why.
3. Work in the morning
According to research by Harvard Business Review, morning people are more proactive than night owls.
"People whose performance peaks in the morning are better positioned for career success," Harvard Business School's Christoph Randler says, "because they're more proactive than people who are at their best in the evening."
When you first wake from sleep, you face your new day with vigor, which will prepare you to carry out your most important tasks and move your startup to new heights.
Starting your morning off with a hearty breakfast can give you the energy you need to work harder and with  more focus.
While working, don't stop to check your e-mail. Don't stop to check your traffic stats. Don't stop to answer a customer's query.
Just grind. And what is the best way to do that?
Break your projects into small chunks.
4. Work in chunks
Working in chunks is vital for your work, focus, and productivity—all important levers that will drive your business – whether it's a brick-and mortar or service business – to success.
For a project that will take you up to one hour, break it into chunks of thirty minutes each. Doing it this way is more fun and productive. And the good news is… there's an app that'll help you do that.
Pomodoro is an excellent app that lets you set a timer for a particular task.
You can set it for 25 or 60 minutes and stop working when it rings. I use it all the time, and I can't imagine my work life without it.
Ready to Implement these Productivity Hacks?

You can get charged up again to do the work needed to build your business. Instead of procrastinating, wasting your time on TV or social media, you can accomplish your daily goals and turn your startup into a success.
How?
Plan your daily tasks ahead of time.
Accomplish those tasks in the morning.
Do your work in chunks.
You've got your simple productivity hacks. Now all you need to do is put them into practice. Your dream—turning your little startup into a billion-dollar company—awaits.
Originally published 8/9/21; updated 10/28/21 to improve SEO and formatting and add infographic.
The following two tabs change content below.
Husband,Success Coach, Business Development Consultant, Strategist,Blogger, Traveller, Motivational Writer & Speaker. I have the propensity for written expression, piling one word on top of another until a coherent thought emerges. My favorite subjects are business, politics, religion, technology, lifestyle and history.Also write about his personal experience on
financentric
and writes a weekly article on
hulkusc
. Follow me on
Twitter
.