A business should vanquish an enemy without vying. With the right skills-set, you can thrive in any industry, outgrow competitors, and leave your rivals far behind.
Although when a business constantly fails to outgrow — or at least cope with — its competitors, it may end up losing sales.
However, running a business is no plain sailing. According to SBA (Small Business Association), 20% of new companies fail in their first year, while only 50% survive through their fifth year.
One of the many blunders they make down the road is that they overlook the competitors.
Having competitors is inevitable; you cannot survive while keeping your eyes closed, pretending they do not exist. You have to burst your own bubble and buckle up to develop skills that can help you outperform all others in your industry.
History has it that behind every successful business is a competitor it tries to subdue and without cutthroat competition, no business can grow.
YouTube once was the only video-sharing giant and now we have Vimeo, Dailymotion, Flickr, Twitch, Metacafe, and so on.
Same goes for Facebook; the pioneer of social media is now competing with its own platform – Instagram, Snapchat, Twitter, LinkedIn just to name a few.
The only key to survive is to surpass your business rivals in your industry.
5 Skills to Outgrow Competitors
Here are the 5 skills that can make you stand ahead of your competitors in business:
Surpass The Competitors Through Innovation Skill
The world has had enough of refining already existing solutions; people are more eager about new, more innovative solutions. Many businesses today are relying on innovation to give a tough time to their competitors.
Take Meituan Dianping, the Chinese app maker and one of the 50 most innovative companies of 2019 according to Fast Company's list.
They have a bundle of apps connecting its users with local businesses offering movie tickets, food delivery, and hotel reservations. The company last year acquired a bike sharing company.
They have evolved to meet consumers' needs which is why there is a 38% increase in the customer usage of Meituan as compared to the previous year.
Google, the search engine giant, has been evolving for almost 20 years. They:
acquired YouTube, one of the biggest video sharing platform in 2006
constructed a line of Android smartphones (Pixels)
launched a variety of products including:

Google Drive
Images
Google+ (gone now)
Gmail
Google Chrome
They also stepped into the AI industry. All this to get a clear leap over its competitors.
Takeaway: Be friends with innovation and do not be afraid of taking risks. You will always find new entrants disrupting the market. Only being innovative will save your company from being wiped out.
Act Before Your Competitors To Get First-Mover Advantage
First-mover advantage is the potential of a company to bring a new product category to market. Doing so can set it ahead of its competitors and, most importantly, allow it to capture large market share.
Uber may not be the first ride-sharing company, as people had carpool lanes long before. But Uber was certainly the largest and most successful one because it had the first-mover advantage.
If you know your targeted market and what works best for you, reach them as soon as possible. Don't spare a single customer and leave no stone unturned.
Since your competitors have solutions to the same problems your products are fixing, you need to capture the audience before your competitors do.
Even if your product is far better than theirs, you must not risk letting them get ahead first.
Takeaway: Aim for achieving the first-mover advantage. Besides acting before your competitors, you need to have market dominance if you want a potential advantage.
Get a Powerful Business Image
Customers won't believe you until they are sure of your credibility. For that, you need to have a solid brand image. Start with an attractive logo design.
If you don't have enough budget to hire a dedicated logo designer, there are many AI based logo design tools online allowing the users to get the best logo template.
You should also have a well-designed, user-friendly website and presence on all possible touchpoints. Make sure every aspect of your brand image fully represents your unique selling points.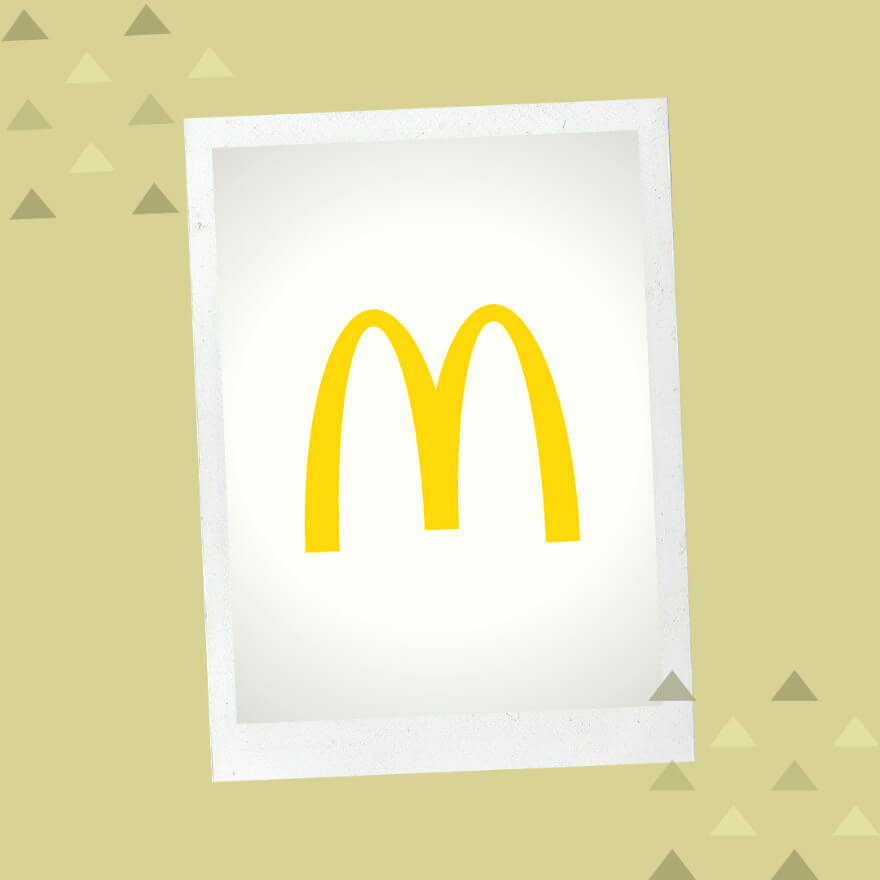 McDonald's is recognized by its golden arches, which can be easily seen at a place full of distraction. Its logo is so powerful that the burger and fries cravings strike the customers whenever they look at its logo.
The powerful branding of McDonald's sets it apart from all other food chains.
Takeaway: Make a powerful name in your industry — or at least a reliable one. You want your customers to know they can buy from without being fear of being scammed.
Focus On Your Unique Selling Points
What makes your business different from your competitors? Your unique selling points or USPs will give you a competitive advantage over your competitors.
However, the USP is not always unique.
Confused?
What differentiates Pepsi from Coca-Cola? They both are popular soft drinks with similar characteristics except for the taste.
Pepsi is sugary in flavor and Coca Cola tastes like raisin vanilla. However, Pepsi is more focused on sports and music while Coca-Cola believes in sharing and creating relationships.
At least, that is what they have had their audience believe.
Takeaway: Your USP matters. It is not about being unique but presenting the brand in a way that makes it look unique.
Prosper Your Business with Intelligence Skill
No business can progress if it stays ignorant of its competitors. An intelligent business will look for the shortcomings of its competitors and use them as its own strength.
A SWOT (Strength, Weakness, Opportunity, and Threat) analysis of a company tells so much about its competitiveness.
Apple's strengths are a strong brand image, greater profit margins, and constantly evolving innovation-led processes.
The high selling price of the product is the downside; however, the brand has given a tough time to all of its competitors.
Takeaway: Using the SWOT process, you can easily identify all strengths and weaknesses of your competitors and devise the right roadmap to leap over others in your market.
These are the five skills to exploit in order to get neck-to-neck with your customers, if not ahead of them. You can incorporate them into your essential business practices.
Ready to Outgrow Your Competitors?
Always remember that healthy competition is beneficial. You should be ready to compete with your competitors without shying away.
The competition will force you to learn many new skills down the road that will make your business stronger and more competitive.
The following two tabs change content below.
Ayesha Ambreen
Ayesha Ambreen is a Creative Content Strategist, Top Author on Quora, Featured SlideShare Creative/Author, and DIY Designer (Canva). Best known for her creative visuals and viral content ideas, Ayesha's work has been featured on blogs such as Entrepreneur.com, LifeHacker, CreativeBloq, Hubspot and more. She holds a degree in telecommunication engineering with extensive experience in writing, outreach, strategic visuals, and search engine marketing. A writer by day and a reader by night, Ayesha loves to explore new realms of creativity and content through her work.
Latest posts by Ayesha Ambreen (see all)