While purchasing stocks, bonds and exchange-traded funds (ETFs) can help you prepare for retirement, you may want to consider investing in precious metals as well.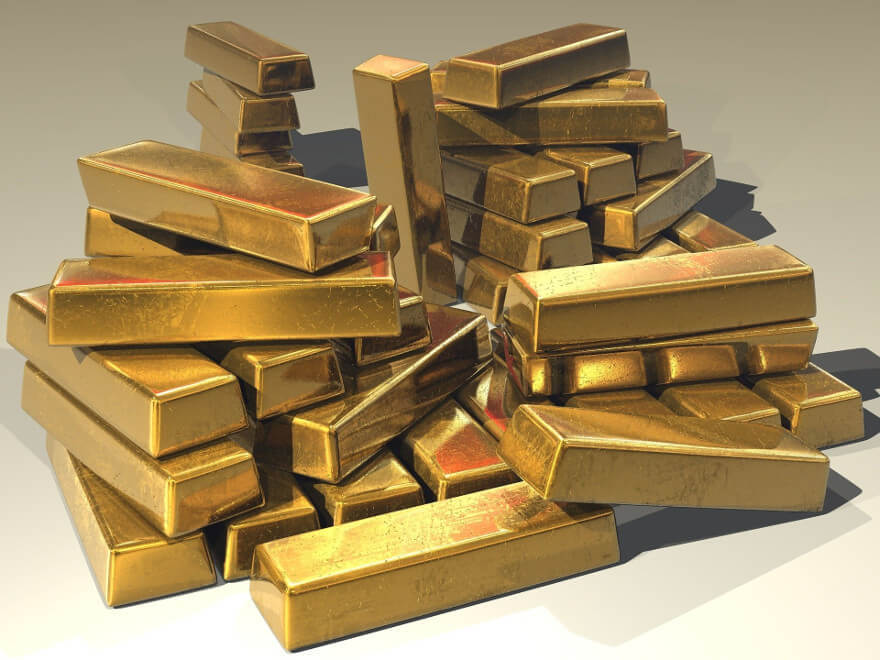 Taking this action can help diversify your portfolio and act as a hedge during periods when the overall economy is volatile.
What Precious Metals Should You Consider Buying?
People have used precious metals as a store of wealth for centuries. Silver, gold, and platinum are the three most popular precious metals you can buy and hold in your portfolio.
Gold is known for its scarcity, malleability and durability. It's used widely for jewelry and also minted into coins and bars.
Silver is also a favorite metal used to make necklaces and rings. The United States and many countries around the world use it to mint some coins.
Platinum comes in third on the popularity list of precious metals. It's made into bars, coins and jewelry but is not as widely sought after as gold and silver.
All three of these precious metals are used in industrial applications, making them even more valuable.
Pros of Investing in Precious Metals
One of the top benefits of investing in precious metals is the fact that they are real money. They provide liquidity, and it takes a significant investment to extract them out of the ground.
There is also a limited supply, which creates demand and scarcity, and unlike real estate, they can be bought and sold quickly. Investing in precious metals also offers diversification.
They tend to act as a hedge when the stock market is dropping.
Cons of Investing in Precious Metals
Some individuals feel like precious metals may not be the best investment to make. They argue that precious metals won't be in demand if the economy goes into a freefall collapse.
In this situation, people may be more likely to switch to a barter system where food and shelter will be desired. Investing in precious metals also doesn't generate interest or income, like you'll receive if you buy dividend-paying stocks.
With any investment, it's best to balance your portfolio by determining the amount of safety you'd like and invest in a gold based Ira accordingly.
According to the experts at Goldco:
"Because a gold IRA is a tax-advantaged investment account just like any other IRA, and is subject to the same rules, it allows investors with existing retirement assets to easily invest in gold."
This percentage will likely increase if you're getting closer to retirement and want more protection.
Serving as a Safe Haven
As you near retirement, it can be highly stressful to have your portfolio fully invested in a volatile market. In the past few years, poor economic times have led to drastic drops in the stock market.
When you don't have 10 to 20 years to recoup those large losses, some believe that it is best to invest in precious metals. Their negative correlation with stocks and bonds makes them an ideal candidate to act as a safe haven in your portfolio when the economy turns sour.
Fiat currencies can be printed easily by the Federal Reserve, which subjects the dollar to a decrease in value. When this occurs, it takes more dollars to buy gold, silver and platinum. Having these precious metals in your portfolio should help you maintain your wealth.
If you're looking to protect your wealth no matter what the economy does, precious metals may provide you with the best alternative.
Why is Inflation So High?
Interest in precious metals is bound to increase whenever inflation rises. And we surely haven't seen anything, yet. Supply chain breakdowns continue into 2022 with ships not being unloaded, labor shortages and now the mandates causing many truckers to retire early, quit or be fired.
When there is less supply, prices increase. And when the government prints more money to chase those fewer goods, inflation can turn into hyper-inflation. Is the U.S. insulated from hyperinflation?
Life and my finances provides a reasonable answer:
"So, are we destined for hyperinflation?

Short answer. No.

Why not? Why can the U.S. seemingly print as much money as it wants when it would push other countries into instant hyperinflation?

Put simply, it's because the U.S. dollar is the global reserve currency. In other words, other countries are at risk of experiencing inflation because they need to transact business in U.S. dollars, which exposes the value of their currency in the process. We in the U.S. don't need to make those additional transactions, so we don't have that same risk.

But, what if we weren't the global reserve currency? What if this moves away from the U.S. dollar and toward digital currency?

It's entirely possible. And based on the recent rise in Bitcoin value, it seems like everyone is actually expecting this to happen …"
Even if we do not experience hyperinflation, when the price of fuel goes up, so does the cost of everything else. So, the bottom line is buy what necessities you can now because they will cost more later.
Don't waste money. And if you can afford it, you may want to invest in precious metals like gold, silver and others.


Source: Expensivity
Image credit: Image by Steve Bidmead from Pixabay. Originally published 8/22/20; updated 1/5/22 to be more timely and add infographic.

The following two tabs change content below.
Ryan Kh
Ryan Kh is an experienced blogger, digital content & social marketer. Founder of Catalyst For Business and contributor to search giants like Yahoo Finance, MSN. He is passionate on covering topics like big data, business intelligence, startups & entrepreneurship.