UPDATE: You missed the free days, but the book is still on special for only 99 cents. Later it will be more.  Direct link >> https://www.amazon.com/dp/B073QC2HVZ/
If 102 Entrepreneurs shared their best tips, what worked, and just as importantly – what didn't work for them, with you for FREE, would you want it? Of course, you would! Now is your chance to get their advice (including mine) at no charge at all.
Click any image in this post to get to the sign-up page to receive the ebook FREE on July 9, 2017
You don't even have to remember to go to Amazon on the appointed day. Just click any of the images in this post and fill in the short form to have the ebook sent to you as soon as it becomes available in paperback on July 9, 2017.
When you fill in the form, you can watch the short video from Buck Flogging that describes the book and an additional offer from him.
What Did Each Contributor Share?
Each of the contributors listed below answered these questions:
How did you come up with the idea for your business?
What was your first major breakthrough?
How long did it take you to reach 100% digital freedom?
What was your biggest mistake?
What is the single most effective tactic you discovered?
What advice would you give someone wanting to achieve similar success?
How to reach them (their site, Twitter username, and Facebook URL
What's in the Book?
Internet Business Insights contains 381 pages chock-full of the answers to the above questions from 102 successful entrepreneurs (listed below). The sections are broken up into these chapters:
Chapter One: Teachers and Coaches
Chapter Two: Service Providers and Product Developers
Chapter Three: Authors, Crafters, and Other Artistic Types
Chapter Four: 30 Skills and Lessons Learned
Chapter Five: Quotes of Note

Business Ideas
Breakthroughs
The Sweet, Sweet Taste of Digital Freedom
Mistakes Were Made
Tactics
Advice from the Mountaintop

Conclusion
The authors who compiled all these interviews noticed a recurring pattern of 3o skills and lessons learned. From those, they created Chapter Four. You might even want to start and end there. Consider it a short course in what skills are most valuable.
Scattered throughout the book are useful images, including the image above from chapter four showing how long it took those who responded to  leave their regular J.O.B. (Just Over Broke) and start working entirely online.
How You Can Help Spread The Word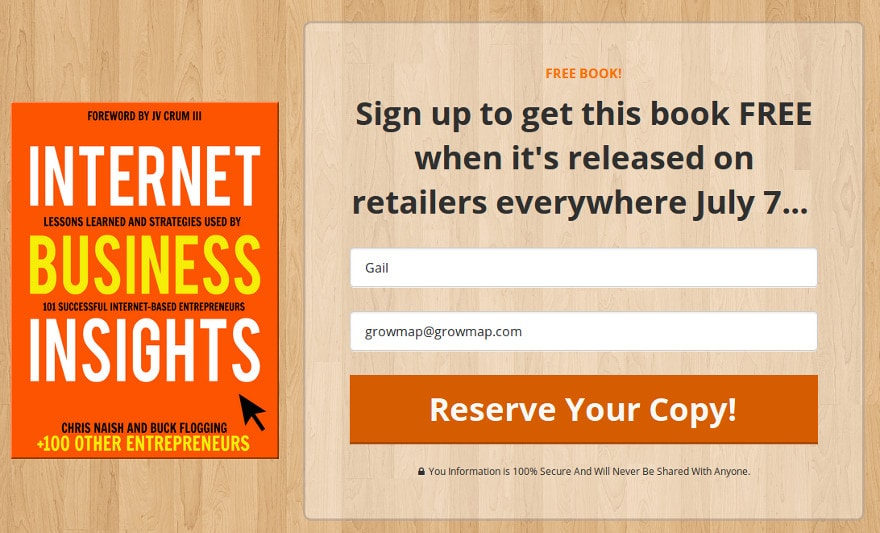 Who Contributed to Internet Business Insights?
Adam Rotman
Adam Sicinski
Akshat Choudhary
Al Spath
Amanda Turner
Amy E. Smith
Annie Grace
Barbara Findlay Schenck
Beate Chelette
Ben Tristem
Bill Burniece
Brad Wilson
Brandon Carter
Britt Malka
Chris Guthrie
Christina Nicholson
Cody Barbo
Connie Ragen Green
Damon Freeman
Daniel Knowlton
Dave Fuller
David Huckabay
David Perdew
Davide De Guz
Debbie Drum
Dennis Becker
Derek Doepker
Derek Murphy
Derric Haynie
Dominic Wells
Emily Gower
Fred Stutzman
Gail Gardner (page 134)
Grant Cardone
Holly Casto
Dr. Ian Dunbar
Jacob Cass
James Heller
Jamie Lewis
Jamie Stenhouse
Jason Little
Jason Treu
Jeff Brown
Jeff McMahon
Jeff Sanders
Jess Larsen
Jesse Krieger
Jimmy D. Brown
Johannes Voelkner
John Bura
John Lagoudakis
John Pollock
John Ruhlin
Josh Hoffman
Jyotsna Ramachandran
Kary Oberbrunner
Kate Erickson
Keith Blount
Kwame Christian
Kyle James
Lise Cartwright
Lisette Sutherland
Lynne Goldberg
Mark Goblowsky
Mark Messick
Mark van Stratum
Matt Bodnar
Matt McWilliams
Merrymaker Sisters (Emma and Carla)
Michael Bungay Stanier
Michael Sliwinski
Michelle Dale
Mind Pump Media (Sal DiStefano, Adam Schafer, Justin Andrews)
Nicole Dean
Patrick King
Patrick McGinnis
Quinton Hamp
Rachel Pederson
Rick Smith
R. Michael Anderson
Ryan Kulp
Sammy Davis
Sarika Kharbanda
Scott Ginsberg
Sergey Kotlov
Shawn Manaher
Sherry Thacker
Stephanie Locsei
Stephen Guise
Steve Alcorn
Stuart Walker
Sujan Patel
Suzanne Vennard
Talita Estelle
Tyler Wagner
Whitney Nicely
Yaro Starak
Yvonne DiVita
Zac Johnson
Still here? Click the image below or this link to get your FREE Amazon Kindle version ebook of Internet Business Insights

Save
Save
Save
Save
Save
Save
Save
Save
Save
Save
Save
Save
Save
The following two tabs change content below.
Small Business Marketing Strategist
at
GrowMap
Gail Gardner is the founder of GrowMap.com. She is a Small Business Marketing Strategist who mentors small businesses, bloggers, and freelancers. After 23 years in the field with IBM and 5.5 years managing AdWords accounts, her focus shifted to small business marketing strategy. GrowMap.com is listed by Cision as a Top 100 Site for Marketers and has received three Small Business Influencer Awards from Small Business Trends. Named by D&B a Top 50 SMB Influencer on Twitter, you can follow Gail
@GrowMap
and on
LinkedIn
.
Latest posts by Gail Gardner (see all)