Your existing content could be keeping your visitors on your site longer to read more pages. More importantly, you can boost traffic to the pages that generate sales and subscriptions.
While you could do this manually by analyzing your analytics and custom coding banners, call-to-actions, and manually suggesting additional posts related to the one your reader is on, that is totally unnecessary. And most of us never get it done!
Website Amplification Tool
Tools exist that will do this for you automatically. This post will explain how one such tool works. Trendemon refers to what they do as "website amplification".  TrenDemon starts by automatically identifying the top performing pages on your site. These are the pages that generate more leads, sales or subscribers.
By then displaying an image on each of those pages in what they call 'lift units', your existing visitors are enticed to click through to the pages that convert best.  Basically, you end up using your most compelling content to keep your existing visitors on your site longer – but more importantly – to increase conversions.
Additional benefits include reducing your bounce rate and increasing time on site. These two metrics are important to improving your search engine rankings and could lead to more search engine traffic.
Find Your Top Converting Pages
Do you know which of your pages generate the most subscribers, leads or sales? While you could create goals in Google Analytics or another analytics program, many don't because it is so confusing. Goal creation is much easier in TrenDemon and you don't have to figure out which are your top converting pages at all. The tool does that for you automatically.
To get started, simply add a line of code before the closing body tag site-wide.  Most content platforms provide a way to add code into a box that places it on every page. It could also be done manually. If you use WordPress, install the TrenDemon plugin. Be sure to locate the confirmation email and confirm.
Then the tool will go to work analyzing your content. You can wait for that or go ahead and start setting up your goals.
Goals: What They Are and How to Set Them Up
One goal common to all types of sites is getting visitors to subscribe. The first step to building a mailing list is to add the ability to subscribe to your site. You might use a simple box for an email address or a longer form. The shorter the form, the better. Just a name and email address is enough to start. You may have noticed that many sites only use first name. Some ask for full name. The less information you request the more likely someone is to subscribe.
You can see examples of two methods on this site. Note the orange and black box with the text Small Business Success with a video in it in the right sidebar (column) on this page. Adding name and email here puts my visitors on a list in my account at Priceless Possibilities. They are sent a pre-written autoresponder series and I could send them additional messages at any time.  The other email subscribe box allows my readers to subscribe to my posts. Getting more people to subscribe is a common goal.
To create goals in TrenDemon, simply click on goal and add two URLs.  The image below is the actual form you fill in to create your goals.
The "Goal URL" is the page someone visits first. It could be my home page of http://GrowMap.com or a landing page where you send visitors using advertising (Facebook, Google AdSense, etc.)
The "Completed URL" would ideally be the page someone arrives at AFTER they actually take the action you desire. This could be a thank you for subscribing page or an order confirmation page. While you could use the URL of the page where they subscribe, that is not nearly as beneficial as knowing how many actually fill in the form and complete the process.
The goal URL pages must have TrenDemon code on them. If you can't access that page because it is not on your site and you don't have that capability on the domain it is on, you may be able to redirect subscribers or buyers to a thank you page on your own domain to use as the Goal URL.
Notice the Tracking Status "check now" button in the above image to determine whether the Goal URL you want to use has the code on it or not. Don't let not knowing the amount to put in goal value prevent you from setting up goals. It defaults to $10.
Adding Calls to Action (CTAs)
TrenDemon can handle multiple calls to action. You can upload a banner or create a lead form. To use a banner, create an image of the specified size to upload. When you create a lead form, it is created in Trendemon, but the data can be sent to your regular email solution or exported as an Excel or .csv file.
You can use multiple CTAs and control which appears where in the Trendemon discovery panels.
What are Lift, Show and Side Units?
TrenDemon automatically creates what they call Lift, Show and Side Units that display your call-to-action and best converting content. The easiest way to understand these is to watch this short video that shows the "Lift Units" in action:
Video Highlights:
The lift unit rises up in the bottom right corner of your site.
Show units fit best at the bottom of your content. It shows images that link to your content three at a time which scroll across. It has arrows on either side to allow users to see more or back up to something they found interesting. It also contains a call-to-action.
The side unit is similar to the show unit with your favored call-to-action and using images to get visitors to visit more posts.
Use the administrative panel to select which units you want to use on your site. The show unit was turned on by default when I installed it. This could change, but these settings are easy to alter so play with them to see what you like best and what works best for your site.
Content Graphs
TrenDemon provides visual graphs that make it easy to see how your content is performing. Their content graph shows you which articles have the highest click-through-rates (CTRs). It also shows total clicks on the posts and pages being recommended in the lift, show and side units.
The screen capture above shows posts that generated conversions (in this case subscribers to my site). The Lift CTR % is conversion that occurred because the TrenDemon show unit got someone to click from the page they visited to the Twitter Best Practices post. The visitor subscribed after reading that additional post.
Content Dashboards
The TrenDemon dashboard makes seeing which content is getting traffic and conversions fast and painless. Click dashboard and you'll see these views: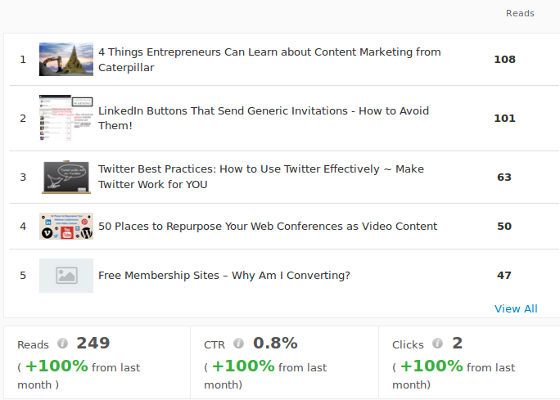 These amounts are not total traffic, so they appear to be only the views on some specific number of posts or pages TrenDemon is measuring.
Monetize Your Blogs
If you look at the pricing page you'll see that TrenDemon is free for publishers because it can be used to monetize from external content promoted on your site. You can test out the tool free to get insights into what content on your site drives subscribers, leads or conversions. It is free to keep if you permit monetization. As TrenDemon is fairly new it may be some time before they have external content to display.
UPDATE: Proof TrenDemon Works:
Image shows path from original post through 2 posts suggested by TrenDemon to visitor subscribing. You can see one of their show units running immediately under this post. I may also have the other options enabled when you visit for testing.

What do you think? Have any questions?
Ask them in the comments.
The following two tabs change content below.
Small Business Marketing Strategist
at
GrowMap
Gail Gardner is the founder of GrowMap.com. She is a Small Business Marketing Strategist who mentors small businesses, bloggers, and freelancers. After 23 years in the field with IBM and 5.5 years managing AdWords accounts, her focus shifted to small business marketing strategy. GrowMap.com is listed by Cision as a Top 100 Site for Marketers and has received three Small Business Influencer Awards from Small Business Trends. Named by D&B a Top 50 SMB Influencer on Twitter, you can follow Gail
@GrowMap
and on
LinkedIn
.
Latest posts by Gail Gardner (see all)