One of the pitfalls a company may face in its life is employment litigation.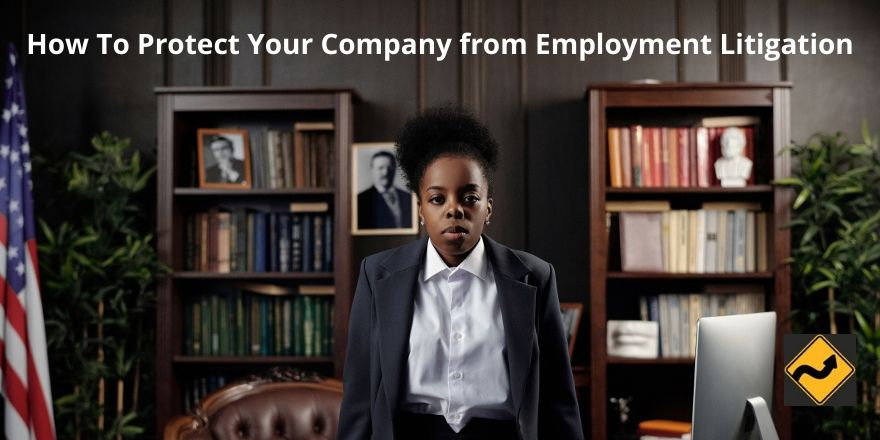 Former or current employees may be able to sue a company and force it to spend tens of thousands of dollars in litigation.
For small businesses, this could lead to possible financial ruin.
Instead of going through a costly court battle, companies should aim to protect themselves from a messy litigation with these smart strategies.
Document Everything
A good place to start for avoiding court battles is with your documentation practices.
Employers have a duty to their staff and their stakeholders with certain types of documentation.
There are record keeping requirements that all companies must follow when hiring a new employee.
Employers must file certain tax documents, such as withholding forms, and an employment eligibility verification form for each new hire.
Additionally, businesses may also have to report new hires to a state agency.
Failure to follow these requirements may put a business in a vulnerable position that could result in legal action.
Follow the Regulations
Companies need to also follow all relevant regulations regarding labor, safety, and workers' rights.
The Department of Labor mandates that employers post certain posters for staff members to see.
These are notices that provide information to workers about their legal rights as an employee.
Many states also have additional poster requirements that must also be followed.
Businesses should also make sure they are compliant with any mandates from OSHA.
Ignoring worker safety may have dire financial and legal consequences for a business.
Treat Employees With Respect
Businesses should also strive to create a corporate culture that promotes respect and civility.
This means treating each employee as an individual and allowing for open, honest communication.
Employees should be given opportunities for advancement. A balance of self-care, work life, and family responsibilities should be promoted within the company.
Owners and leaders should recruit managers who also subscribe to these basic ideas.
Employees who feel valued and involved in the decision-making process in a company may be less likely to seek litigation.
Be Purposeful in the Termination Process
There will be times when someone does need to get terminated for various issues, including performance problems.
It's important for employers to be purposeful and cautious when starting the termination process.
Employers must document a series of actions to solve performance problems before resorting to termination.
Firing someone shouldn't be a sudden decision.
Managers and leaders should make determinations about firings together and have evidence to support their decision.
Offer Severance Packages
In some cases, it may be more appropriate to offer a severance package and agreement.
Companies that need to reduce their staff or reorganize can create severance agreements to help prevent possible employer lawsuits.
It may be more cost-effective to offer financial incentives in a severance package, such as continuing with a salary for six more months and additional benefits, instead of simply firing someone suddenly.
Partner with a Lawyer
Businesses can also be proactive in their strategy for employer defense and have a lawyer already on retainer.
A lawyer who specializes in employment concerns may be able to help streamline a company's hiring processes and point out any potential vulnerabilities.
Investing in a lawyer for a company's employment practices may be a wise way to prevent a very expensive court case.
Lawyers may also be able to help a company draw up more solid contracts for staff members.
Vet Future Employees
The way a company recruits may also leave them open to potential litigation if there are problems.
Before bringing anyone onto the team, be sure to do a thorough vetting of the staff member's previous jobs and experiences.
Verify the accuracy of their resume and interview claims by calling past employers and getting feedback about their performance and attitude.
Be sure to confirm any degrees or other credentials listed on the resume.
Make sure there is a team approach to hiring instead of one human resources person. Instead, have a committee of company stakeholders help with recruiting.
Have a Detailed Employee Handbook
Companies may also be able to prevent disagreements and misunderstandings from future employees if there are clear standards and procedures in place.
During the hiring phase and initial training, employees may get information about the company's practices.
In order to ensure better employee performance and avoid squabbles, employers should publish all of their procedures and rules in a detailed employee handbook.
The handbook should include:
Complete descriptions of the company's attendance policy
An overview of performance standards
How employees get evaluated
And any other policies in place
Each staff member should have a copy of the handbook.
Address Problems Quickly
Lastly, it's important for business leaders to have a process to solve conflicts related to staff members.
If there is an issue, managers should work together to address problems as quickly as possible.
The procedures to resolve conflicts should be fair and transparent.
This way, staff members may not accuse the employer of things like discrimination, unfair employment practices, or other illegal behaviors.
Employers should also document each part of the process whenever there is a complaint about an employee or a grievance from a staff member.
This way, if the issue escalates it may get resolved without court. Smart businesses have to have a careful plan to prevent employee litigation.
Court battles take resources and money away from the company's goals and may prevent future success.
Being transparent, fair, and compliant with all documentation may help a company avoid a battle in court.
Photo by August de Richelieu from Pexels edited in Canva.
The following two tabs change content below.
Dana Davis
Dana Davis focuses on small business and the use of gifts to show appreciation in relationships. She researches gifts of all kinds and especially personalized and engraved executive gifts for ExecGiftsBlog.com.
Latest posts by Dana Davis (see all)