This is a guest post by Samantha Bilk who writes for Zoober Digital Training, an online social media education portal with various course offerings on digital marketing topics.
There's no denying the awesome reach and power of the latest social network to grace our screens – Pinterest.
Launched in 2010, it has been noted on several occasions that Pinterest has grown faster than any other social media site on the web including Twitter, Facebook and even Google Plus.
In the U.S., pinterest is mostly adopted by women (as of March 2012) with this recent infographic showing 80% of US pinterest users are women.
Interestingly, this UK pinterest users infographic shows that in the UK, 56% of pinterest users are male and only 44% are female!
How can you harness this behemoth for your benefit?
What are some good ways to grow your initial followers?
We have a few good ideas below on how to do just that.
See our top picks on four clever ways to grow your Pinterest followers this week.
1. Guest Post –
It is indeed a smart idea to blog about Pinterest on your site and link to your profile page in your article but after you have done this, it is then best to leave your blog and post elsewhere.
This practice of posting on other sites and blogs is known as guest posting or guest blogging and it is a powerful tool when used strategically.
The key in growing your followers via this method is to leave a clear and concise "call to action" in your guest article BIO box or author resource field.
Instead of only linking to your blog or site, to grow your pinterest
following you would instead link to your Pinterest profile page.
Your article should of course be geared to this audience and those seeking tips and information on Pinterest. This is a clever, free and relatively easy method to grow your Pinterest followers.
2. Use Your Blog –
As we briefly touched on above, writing about Pinterest on your blog is a great way to drive traffic from those interested in this cool new social network.
Think about the things people are interested in and want to know more about as it pertains to Pinterest. Then at the bottom of your article give a compelling incentive for others to join you and follow your boards.
Can you think of some clever incentives you could use to entice others to follow you there? Share with me below your ideas.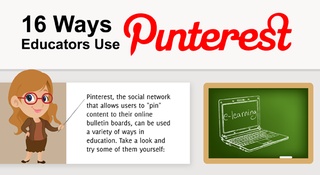 3. Launch An All Out (One Week) "Blitz" Campaign –
This is when you dedicate all your efforts for one week to achieve one goal. A big goal. Let's say you want to grow your Pinterest followers from a current count of 50 to 500 or more.
You would create an action plan that is to be carried out in one
week and every task you do during this week's time
is meant to reach this singular goal.
This could be a contest, blog commenting strategy, guest posting campaign as mentioned above, paid ads, blogger outreach, email marketing and so on.
Go at it like your life depended on it and if you want to take it a step further – you could make it even more fun and turn it into a challenge of sorts where you recruit others to also set a goal for themselves and you all work on this goal together.
You might be pleasantly surprised at your results by the end of one week when you dedicate all your time and efforts to nothing but this one goal.
4. Use Your Other Social Media Channels –
One great way to grow your presence on a new social network is to use your current established networks. If you have a big following on Facebook or Twitter, why not leverage this group to grow your profile on Pinterest?
You could make it a goal to ask your peeps on Twitter
(every day) to join you on the image based site
or you could make them an offer they can't refuse.
Provide a good incentive – a really good incentive. Think of creative ways that others would be compelled to join you – after all, remember social media is a numbers game and a game of clever tactics.
If you offer your own affiliate program or products you can use those as incentives. For more ideas, watch Tricia Meyer's Affiliate Summit Webinar on Affiliate Marketing on Pinterest.
READER QUESTION: How many followers on Pinterest do you currently have and how many would you like to have by Friday of this week? Tell me below and I will personally come up with ideas on what you could try.
SPECIAL INVITATION FROM GAIL @GROWMAP: Add a link to YOUR pinterest profile in your comments so we and our other readers can follow, like and repin for you there!

Pinterest TIP: Be consistent across Social Networks. Make your pinterest username the same as your Twitter username. For example, we are @GrowMap on Twitter and GrowMap on Pinterest.
Pinterest Resources:
The following two tabs change content below.
Latest posts by GuestAuthor (see all)