This is a guest post by SEO analyst Sarah Bruce.
What role do you think Facebook or any other social media plays in our lives these days? Being connected to family and friends is of course, a feature that social network provides. However, it is not limited just there.
Until now, I had the notion that social networks are for "being connected" to known niches, but this idea has been completely changed by a few wonders that have happened lately.
I bet the recent incidents would have been an eye opener for many online users who are skeptical of the power of social networks like Facebook. They have shown their online influence and also proved that 'strong desire' can drive you to achieve your goals. 'Kindness' that exists globally has also been proved.
Does everything sound strange to you? I don't blame you. In fact, there are many people who are not aware of the incredible happenings of the last year, and what is still happening.
So, I decided to share all the wonderful incidents on a platter for you. Let us have a small glimpse to know, how social media and people can be extremely intimate.
Facebook campaign helped the sisters get a puppy!
You must be wondering how a social network can possibly get you a puppy when you can go to a pet shop and buy one! Trust me, Facebook has that potential.
Not all parents wish to buy a pet for their children and a similar thing happened to an adorable gang of kids. Skeptical father had put a tricky condition of getting 1 million likes on a Facebook page to two siblings, and said that the success would fetch them a puppy.
Motivated by the father's challenge, the two sisters decided to post a message on their Facebook Profile and requested other users to like it.
Message reads, "Hi World. We want a puppy! Our dad said we could get one if we get 1 million likes! He doesn't think we can do it! So 'LIKE' this!"
To everyone's surprise the post got 1.2 million likes within an hour!
Father had to keep up his word and the siblings had an addition to the family. Two little siblings proved the power of social network to the world.
Woman finds her birth mother!
The Power of Facebook should never be ignored! Jenessa Simons started her search of her birth parents three years ago when she was 18. After a long search, she decided to give a Facebook campaign a shot – inspired by the success of the Facebook viral puppy campaign.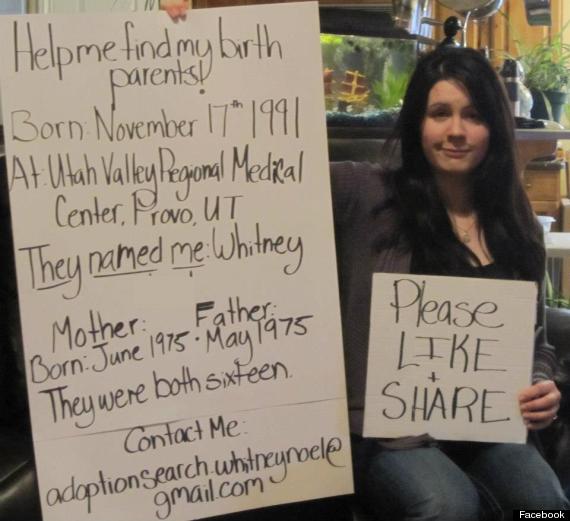 She had posted her photo with what little information that she had on her Facebook Profile: Hospital, birth date of her parents, her birth date, and her contact information. This post went viral in no time, with 86,000 shares. Many people contacted Simons, saying falsely that they are her parents!
Then, a woman contacted her claiming to be her mother. Simons was skeptical initially, however the woman knew certain facts that were not known by anybody else. She told Simons that she was born via caesarean section. Simons said, "Then she sent pictures of me as a baby that my mother (adoptive) had given her".
"I found my birth mother just because 70,000 people shared that picture and
took one second of their day to hit share and I found my family", she said.
Simons was overwhelmed with emotions, after she had found her birth mother. The search of her birth father is still on, though.
Likes get a CAT added to the family!
When his kids asked for a cat, another father from Massachusetts, Dan Urbano, put forward a condition to his little daughter, Evelyn Urbano, and his 7-year old son, Remi. He told them that if they could get 1000 likes on Facebook he would buy them a furry cat.
Their mom, Marisa Papile Urbano, helped her children in writing their plea on a board and posted it on her Facebook Profile. It says, 'Hey Facebook! My sister and I really want a CAT. Our papa promises we can get one if we can get 1,000 Likes. Please like this picture. Thank you!'
The heartwarming post crossed the threshold of 1000 likes and
reached almost 120,000 likes, with 100,000 shares across the globe.
What next? Dan had to give up and brought a green-eyed feline,
which they named as Hairietta L. Pawturr!
They say that the middle initial 'L' is their gratitude towards the
social network,which helped them add a friend to their family.
All these campaigns scream to the users to get rid of the suspicious notions about the influence of social media platforms. These networks have the power to reach and connect everybody, globally, irrespective of any barrier of differences.
Authored by Sarah Bruce. An SEO analyst, who predominantly works on removing Negative feedback from websites, Do you wish to Remove negative reviews about your Business/Services? Visit www.lemonpeak.com
The following two tabs change content below.
Latest posts by GuestAuthor (see all)