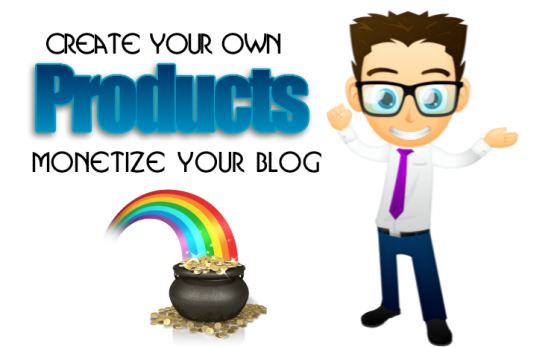 For many bloggers, monetizing can be quite a pain. It's no easy task to regularly create and share high quality content, keep your followers engaged, build your own mailing list, and cultivate a steady stream of traffic.
Despite the difficulties that come with monetization, there's one surefire way to make sure that you're generating revenue from your blog—start creating and selling your own products. Here are three reasons why:
When it comes to selling products and/or services online, nothing generates more sales than knowledge or information-based products. The Internet is a giant encyclopedia that people use on a daily basis to find information, learn new skills, and/or solve their problems.
If you're able to provide your visitors with a resource that caters to their needs and gives them information that helps them in some way, you can guarantee that your blog will start bringing home the proverbial bacon.
Your knowledge is not a finite resource and you can always learn and create more content that helps people. This is a great way to ensure that your followers have a reason to keep coming back to your site and spending money or helping you generate ad revenue.
Having your own product is a great way to get your name out there and generate exposure for yourself and your site. Why? Because not every blogger has their own product or service.
A great example of somebody who has amassed a huge audience and made a living from creating his own products is John Chow. By creating his own informational products and promoting them on his blog, he took JohnChow.com from $0 to $40,000 per month in just two years time.
If John didn't have his own products that helped people learn new skills, he wouldn't have been able to grow an audience of this size and generate that much revenue, plain and simple.
There are many aspects at play when it comes to running a successful blog and being able to generate income from it, but one of the most important parts of the equation is your reputation. People will come to your blog because they trust you and the information that you're providing them.
A great way to build upon that trust is to provide your followers with a great product or service that is unique, original, and is valuable to them. Giving your followers a one of a kind product will not only help you become an authority in your space, but it will also help you grow the reach of your blog, and the earning potential of your site overall.
If you're a blogger looking to monetize your site then creating and selling your own products is a great way to do it. Make sure that whatever you are offering your followers provides them with value and is of top notch quality and you can almost guarantee that you will meet your monetization goals.
The following two tabs change content below.
Are you stressed out with using social media and blogging? Need some help from a professional, who actually has spent time in the trenches helping entrepreneurs with their online marketing strategy? Then connect with me on my blog or on Google+.
Latest posts by Andy Nathan (see all)