Have you been doing content marketing for quite some time? And now are you running out of ideas to create fresh, unique content campaigns?
Maybe when you started with your content marketing strategy, you had loads of ideas lined up to create rich content that not only provided value to your audience, but also helped to engage them and generate leads.
Maybe this is how you tried getting ideas for your content:
Keyword & competition research around your topic
Checking questions that people ask on forums like Reddit & Quora
Browsing through BuzzSumo for the most shared content, to get inspiration
But like you, most content creators get a bit stuck with this process after some time.
So how can you find fresh, engaging ideas now, that are the best fit for YOUR brand and story?
You can go back to the drawing board, to your brand strategy.
Yes, go back, because your brand development comes much before your marketing execution.
Here are some inspirational examples of how come companies developed unique and engaging content, even increasing their lead generation and sales, by drawing on the fundamentals of their core brand story and strategy.
Market Understanding
The first part of your brand strategy would have been your research about the industry, the competition, and your specific market, to find where you can fit in, what your niche is.
You can translate all of those findings into information that can actually help your customers.
For instance, OkCupid, a dating site, did a big study on the questions that people generally think should be asked on a first date.
They compiled all that data and used it in a blog post to share some tips to their readers.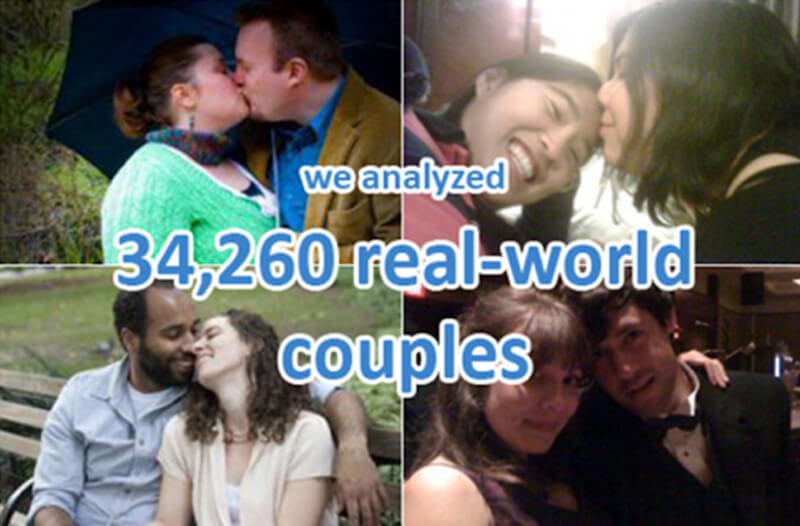 And they did this campaign way back in 2011, when content marketing wasn't even such a buzzword, simply by drawing on a market understanding very relevant to their brand.
Unique Value Proposition
Your unique proposition is the value you can provide to your customer, through what you offer, how you offer, what makes you able to deliver, and how you are different from others.
Stated simply, it is your brand promise, substantiated with a reason-to-believe. To build your unique value proposition, you can use a table like this, for a brand XXX:
Let's explore these elements one by one.
Brand Positioning
This is really how you want to position or define yourself in the market. This is of course tied to the overall value proposition of a brand, but it's also the abstract picture and perception that form in people's minds through each brand interaction, even with content.
A classic example of this is in the automobile industry.
While Volvo has always positioned itself as the 'safe car', sturdy and robust, BMW, in everyone's minds, has been the 'ultimate driving machine'. It is all about the experience.
Even as early as 2012, BMW set new creativity records in marketing with their short film series, where, even with celebrity actors, the car was the hero.
But today the world is much more digital, and there could be a future where cars may not even require drivers.
So with their latest website, BMW takes the experience a few steps further, into lifestyle, culture, and travel, with some brilliant examples of content and storytelling.
It is also one of the first brands to use Google's AMP technology, which makes the content consumption seamless and integrated for their website visitors.
You have drivers mapping remote areas on Google street view on a ride from India, a freeride expedition to Antarctica, and other stories.
For sure, this is to an extent branded content, but remember that BMW's target are customers looking for excellence and almost the highest standards in engineering, technology, and performance.
So BMW ensures that this core positioning is at the heart of not just its products, but its content, its channels, and the entire customer experience.
Target Audience
Needless to say, deep customer research, and creating in-depth buyer personas, must be the immediate next step of your brand strategy, to build your competitive positioning and brand message.
Because only when you know exactly who your customer is, can you create a brand that appeals and connects to them.
And this is where you can get most of your content ideas from: knowing your customers, their desires, the problems that affect them, and helping them with a way to solve it.
The key information you could use in a persona are:
Demographics. Usually includes age, location, civil status, gender, lifestyle
Usage & Behavior. The affinity with the field, how they get information, who are they influenced by, which brands they like and why
Goals and desires. What the customer would like to have, achieve, know, etc., related to the field
Pain points. The challenges affecting them currently or the blocking points to their goals
Customer journey: How they end up choosing and buying products
All of these elements come together to create the persona of a typical kind of person who is the right fit for your brand.
A beautiful example of understanding audiences and creating communication around them, has been Dove.
It's target audience has always been women above 30, who want to feel beautiful, but feel disheartened looking at thin, beautiful, perfect looking women, with flawless skin on media channels. This leads to them struggling with body image issues.
Thus the brand initially went on to create campaigns like 'Real Beauty', 'Beauty Sketches', and 'Choose Beautiful', featuring real women, in all body shapes, with wrinkled skin and cellulite, and telling their real stories.
They even featured their actual audience in their content and advertising.
It has now further acknowledged that women in this age group are also generally caregivers (parents/ teachers), and a huge challenge for them is to help the little women they feel responsible for retain their own positive body-image.
So it has started a whole content series called the Dove Self-Esteem Project.
See the latest video: Dove legacy
This campaign is to provide information, materials, and tips to their core target audience about how to help young women feel good about themselves.
So they have created a lot of content on topics like how to have conversations with the young people, on loving their own bodies, teaching them how to communicate, and helping them build strong relationships.
As always, they have also carefully selected images and stories of women of various ethnicities, which gives a subtle hint that their target audience is worldwide.
Value Proposition
Your value proposition is the exact benefit you provide to your customers. Your product or service, and how it benefits them.
For instance, GoPro was one of the first companies to launch light, portable, and waterproof cameras. And most of all, wearable.
Their value proposition was fairly obvious:
Cameras that you can take with you on any adventure, to shoot any activity, while you are doing it.
So GoPro focused their content marketing on the largest video search + social media channel: YouTube. As they sell cameras, this made the perfect sense.
On their YouTube channel, they started posting videos of dynamic sports shot in action.
But the biggest difference happened when they expanded their content marketing to user-generated content, asking their fans to share their own GoPro videos, like below.
So their subscribers had access to real, individual stories, stories of people like themselves, and this helped them connect more to the brand which made it happen.
Fantastic example of storytelling!
No wonder today their channel has more than 6 million subscribers.
Besides, what better way to share customer reviews than through live footage with the actual product?
Credibility
This is your reason-to-believe. Why should the customer believe your positioning, and the value you claim to provide?
Common examples of credibility are using customer stories and case studies to show how your product or service is benefiting your customers.
Credibility can also show the technology or processes behind the products or services.
Credibility with case study: Percolate
Percolate is a content marketing platform, and it has lots of downloadable examples on its website about the detailed way that they were able to help their customers.
So it gives you a complete understanding about the challenges faced by different brands, how the solution was conceptualized and developed.
So you have access to plenty of best practices and marketing trends, and can get fresh ideas about how to solve your own challenges or take your content to the next level.
And each case study is gated content, so a lead magnet on its own!
Plus, if you ever want to work with Percolate, you have plenty of reasons for you to be convinced about the results that the brand claims that it can deliver.
See how they combine content, storytelling, branding, lead generation, and building trust about their expertise?
Credibility through process: Dior
Dior positions itself as a luxury brand that has a rich heritage of creating exquisite products made with detailed craftsmanship.
So one of their campaigns included creating several videos to show how the craftsman in action: how they painstakingly make by hand each of their creations.
So you get insights into the work that goes into creating luxury products, and also get further convinced about the true quality of the brand.
Differentiation
Now that you know your competition through market research, and have determined the positioning you would like to have, it's easier to get to your point of differentiation.
One of the best examples of this is IKEA.
Not only have they differentiated themselves from other furniture stores by going the full DIY route, they have also made furniture shopping an experience, with all their stores housing a full restaurant.
In line with their differentiation strategy, the content marketing follows.
While they have plenty of brilliant content marketing examples, my favorite one, which highlights the whole DIY experience, even beyond furniture, is the Cook This Page campaign.
A DIY method for food! For trying out new recipes with detailed instructions – almost like an IKEA manual.
The recipes and place to put in each ingredient were printed on parchment paper; all you had to do was actually fill up each space with the food, bake, and voila! Ready-to-eat.
Now which other furniture store could claim content like that? A perfect example of differentiation with content that also generated sales.
Note: Competitive positioning and differentiation is actually a combination of a lot of the above brand factors, like positioning, credibility, mission, etc. It's actually your full brand story. So you also need to look at your value proposition as a whole, and see what truly makes it unique.
Brand Purpose
Your purpose is the reason you are in business. It is why you do what you do. It's your raison d'être. And brands with purpose grow 2X faster than one without.
Patagonia being cited here as the example may not be a surprise to many of you, but it's very inspiring to note how their purpose of helping nature and the environment is embedded in their business and content strategy.
"At Patagonia, the protection and preservation of the environment isn't what we do after hours. It's the reason we're in business and every day's work".
Over the years, they have created plenty of campaigns to drive awareness to the threats, both man-made and natural, facing the environment.
Recently they have gone a step further with Patagonia Action Works.
By actually connecting people and organizations who believe in a specific cause, they can work together to protect the environment. The brand helps its fans use the forum to find multiple ways to contribute to change.
This is not just about developing blogs and videos, but a brilliant example and an inspiration of the extent to which you can take your content marketing.
Of how you can actually use your purpose to drive real change and add value in people's lives.
Not just once, but consistently, for years.
Brand Mission & Vision
A brand mission is beyond just a goal or objective. It is what the brand aims to achieve at a higher level, to help people in a specific way.
A company that brings their mission to life through all content is Airbnb. Their mission is to help people 'belong anywhere'.
In other words, to feel completely at home no matter which place they are visiting.
So right on their website, when you put in a location, you find a huge assortment of information about the place. Besides homes (which is the actual Airbnb business), you have different kinds of things-to-do, recommended restaurants, etc.
I just did a simple search for Barcelona. In experiences alone, there were options from city tours, art tours, beach-side experiences, meditation camps, food tours, farm visits, concerts, social impact, cooking classes.
All of this just goes back to upholding the brand mission and vision: to be the company to help people belong anywhere.
Brand Personality
Imagine if your brand was a person. What personality traits would it have? How would it behave, what character would you always be able to associate it with?
MailChimp, an email marketing and marketing automation platform, has a smiling monkey postman (Freddie) as their logo.
Needless to say, their brand personality is all about being fun, approachable, quirky, simple, easy.
Humor being the operative word.
Their style guide is all about bringing these traits to life, and their ''Did you mean MailChimp?" campaign aptly captured this personality.
Being totally authentic, they realized that the name may not be simple for people to quickly grasp.
So instead of panicking, they laughed at themselves, built on that with humor, creating non-existent products with names that sound like MailChimp. E.g. FailChips, MailShrimp, MaleCrimp.

For FailChips, they actually took it a step further by distributing several packets of badly crushed chips to some retail stores.
Naturally, this captured people's attention, and triggered them to engage with and share the content as well. This led to the final landing page to register for the software.
This content marketing example is specially good as it connects right with the name of the brand. MailChimp really differentiated itself from any other marketing SaaS.
Brand Values
Your brand values are what your brand stands for, what it believes in. It's the moral compass for decision-making, for creating new products, for marketing activities.
A brilliant example of value-led marketing was the recent Nike Kaepernick campaign where the brand declared what it stood for, quite openly, by signing on Colin Kaepernick as their brand ambassador.
By associating itself with someone who stands up for what he believes in, even if the world spurns him, Nike expressed their brand values clearly and directly targeted those under 35, those who buy more sneakers, and those who share similar values.
The audience felt immediately connected to the brand, went all out and supported it, and sales skyrocketed.
User Experience
Brand Example: Shutterstock
In today's world, where the customer has tons of options for literally almost everything, providing customers with a brilliant user experience is one of the most important aspects of marketing.
Shutterstock, a company that sells images and videos, brought this key brand aspect to life with an interactive process of informing the customer about the latest creative trends, backed by data.
Not only does this provide a fantastic experience, it actually helps customers understand what kind of visuals perform well for what kind of campaigns, thus helping their decision-making.
Check out this brilliant interactive experience which makes you spend so much time engaging with the brand!
And there you go. Inspiring content marketing based on fundamentals.
Like the above examples, if you have defined a strong brand, embrace its authenticity and uniqueness fully, and let it help you create fresh content marketing ideas, that may not just generate sales, but will stay in your customer's minds, and increase brand recall in the long run.
An important thing to remember here is that none of the above concepts work in silo. Your brand strategy is an integrated one, which combines all aspects.
So create your brand story first, and let that inspire your content.
Whichever element your content marketing idea is triggered by, make sure the final content represents your brand as a whole.
Now that you have got a ton of content ideas, don't forget the next steps:
Do your keyword and topic research around the ideas you have generated, and see what are the most relevant questions and how you can best answer them.
Remember to write and create the content as per your brand's design guidelines including colors, look and feel, tone of voice.
Choose the appropriate medium and channel for your content and your brand. As you can see above, some brands have used online visuals like videos and interactive content, some have also just stuck to written blogs with images, and some have distributed their content in retail stores. So you have to decide what works best for your brand.
Do you have any examples to share about how brands have used their strategies to tell stories and connect with their audiences? Would love to hear your comments!
The following two tabs change content below.
Poulomi Basu is a branding, marketing, and SEO content consultant for small businesses. After 14 years of corporate experience in journalism, advertising, brand management, and strategic marketing, in 5 different countries, with big companies like Ogilvy, LÓreal, Johnson & Johnson, and Vodafone, Poulomi founded her own company Ignite Marketing in 2015, to work with small businesses and help make their business growth journey easier, with a structured marketing process and content writing. She is passionate about brands, writing, people, and personal development. You can connect with her on Twitter (@poulomi_basu), LinkedIn (brandpoulomi), or through her website weignitegrowth.com
Latest posts by Poulomi Basu (see all)