Consumer behavior is changing in a big way, and so is loyalty. By loyalty, I do not mean one driven by a rewards program, but loyalty in its truest sense. Who wouldn't love to see their customers going out of their way to spend more than the average consumer?
Instilling palpable levels of devotion, however, requires more than just rewards and offers. With rapid mobile app development these days, it's difficult to earn the consumer's loyalty for your app.
Using rewards programs to build a loyal user base is worthwhile, but as terrific as they are, there are certain drawbacks. Even though rewards programs are effective in 'reengaging' customers by keeping them in the loop, they, for a fact, do not effectuate absolute loyalty.
Brands are laying too much emphasis on rewards and offers, forgetting about the user experience altogether.
Click To Tweet
The result: an environment where brands and consumers, both, live in a state of discontent. This is because of the following reasons:
Consumers expect greater value, and more points at lower costs.
Increasing program liability as consumers hold on to their points for more profitable rewards in the future. This forces businesses to carry these points, creating liability.
Higher demands for program efficiency, calls to simultaneously increase Value per Point and reduce Cost per Point.
It's not hard to size up the market competition, and realize that your competitors are pouncing on every opportunity to attract away your customers. In recent times, several great brands of the past have slid downwards on the growth curve. The only way up is through innovation and evolution.
In this post, we'll talk about some of the initiatives you can take beyond loyalty programs. Here are six things you can try in order to delight shoppers and turn them into customers for life.
1) Create utility –Having a consumer-centric approach to the user experience helps users in their daily lives and strongly ties them to your brand.
Nike plus, and the Smart Tools app, for instance, offer useful resources that keep users engaged, provide helpful services, and improve overall sales. The former motivates users to run by providing motivational training data; the latter is a series of apps that uses your phone's sensors to carry out a variety of measurement-related tasks, e.g., ruler apps for leveling, angle, and length, and measurement apps for distance, height, etc.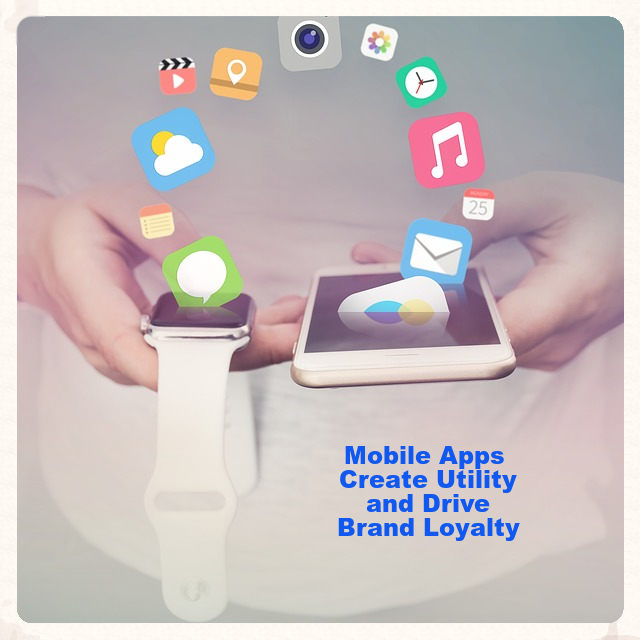 2) Keep it personal  – The aim of personalizing is to create more relevant, better experiences for consumers at every touch point. The goal is to connect several touch points by sharing information in between, analyze consumer behavior in real-time, and to reach out to consumers to immediately deliver targeted content.
American Airlines, for example, has undertaken the largest deployment of beacons to inform passengers of their boarding gate and time when they are inside or near an airport terminal. The app can also tell a passenger about nearby facilities, such as a restroom, cafeteria, etc. Such personalized messages provide additional value to consumers, and increase the probability of adding them to a loyal user base.
3) Brand transparency: let them know what you are doing for them – The modern day consumer desires to be informed on everything from where a product is manufactured to what processes it goes through. Far-sighted brands are sharing every detail to ensure transparency and to create an emotional connection with their consumers in the process.
TOMS, for instance, is a brand focused on "improving lives". TOMS follows a one-for-one model, ensuring that when a customer buys a pair of shoes, the company donates a pair to someone in need. This transparency is reflected in its purpose and positive results, with over 35 million pairs of new shoes donated to needy children. The transparent manner in which TOMS helps people in need has resulted in an increased positive attitude towards the brand and helped it earn the loyalty of socially conscious consumers.
4) Technology integration – Providing a seamless consumer experience across multiple devices and platforms might appear great to a consumer, but is an extremely complicated process in terms of technology. Connecting one consumer touch point to another requires a lot of planning, technology strategy, and architecture – not to mention the investments.
Older technology and equipment have fast become redundant, and the only way forward is to adapt to the changes, and acquire the latest gadgetry to keep everything connected.
Click To Tweet
Apple makes a fine example of technology integration, and this is a major reason for their loyal following. Your experience with one Apple device, and your information, is transferred easily to another Apple device you use in order to provide you with a similar experience.
5) Customer appreciation: Make them feel special — Take note that your consumers are innately emotional. Going out of your way to make them feel special will definitely have a positive impact on the customer experience.
You can make your customers feel appreciated by honoring them with a dinner, or send out some flowers to an existing customer as a gesture of thanks. To take it to another level, you can always connect two or more of your customers when they are looking for relevant services. This will not cost you anything, but referring your clients' businesses will earn you plenty of goodwill.
Customer appreciation makes a lot of sense to your business, and increases the chances that your consumers will remain loyal.
6) Implant loyalty efforts throughout a customer's journey — Your loyalty initiatives should not be contained within your rewards program alone. Don't just woo customers when they're in the process of buying from you; be sure to give them great experiences when they're at the research stage as well as the post-purchase phase.
Offering exceptional services throughout the shopping process will lead to the maximum conversion rate.
Click To Tweet
At the same time, it provides an assurance to your customers that you care about their interests. You can offer live chat support to help customers. Be sure to describe your products comprehensively to assist them in product comparison, assisting them to eventually choose what suits them the most.
You can also provide convenience to your consumers by offering doorstep delivery, or an option to pick up the product from a nearby location. In the post-purchase phase, you can offer support by providing how-to guides, video tutorials, live chat, and warranty support.
Your business is all about your consumers, and their experiences. Forward-looking brands emphasize experiences they create for their consumers more – no matter how small they are.  Brands that adopt a more consumer-centric approach, spend more developing technology, and roll out processes that genuinely enable them to put their customers first are the brands that are leading the pack right now!
The following two tabs change content below.
Director Marketing
at
TkXel
Ashar Samdani is a marketer by profession but a product and technology enthusiast by heart. He is passionate about building products and helping businesses leverage technology to simplify complex processes. Highly focused towards customer success, he has guided multiple start-ups & companies on product development & execution strategies. He heads the marketing at TkXel, a
web development
and
mobile development app company
. He loves making new professional acquaintances. Reach out if you want to talk marketing, technology, business or boxing. He can be contacted at ashar [at] tkxel [dot] com.
Latest posts by Ashar Samdani (see all)