Blog outreach management done well is very time consuming, but a blogger outreach tool exists that makes finding the most relevant blogs in your industry and researching and prioritizing them by their reach and influence a snap: GroupHigh.
This 2 minute video provides a quick overview of what GroupHigh can do for you:
See the screen captures below showing what can be seen from within the live tool including how many posts a blog has that contain a given keyword phrase, a view of the post excerpts you can view in the tool, and the total number of comments a blog has on posts that include the keyword.
Click on each image to see a larger, easier to read version.
Click back to return to this post.
For examples of how targeted these lists can be, use the tool to pull:

All the social media bloggers in San Francisco.
Or all the bloggers who wrote about Social CRM anywhere.
Or all the home improvement bloggers in Chicago.
Or all the bloggers who covered bullying prevention in several specific states.
The tool is capable of searching for multiple keyword phrases (and / or Boolean searches) AND location simultaneously so the list can be exactly what you want – and you can see how many posts they've done that included that phrase(s) and drill down to look at excerpts of the actual posts or click to go read them. You can even see how many total comments those posts garnered.
These Timeframes can be specified:
Past 7 Days, Past 30 Days, Past 3 Months, Past 6 Months.
Users have a choice of exporting their lists as spreadsheets – and all it takes is checking a box to add or remove fields so the output is precisely what you want to use including:
PageRank
SEORank
MozRank
Facebook Shares
Twitter followers
Klout Score
Compete Monthly Uniques
Alexa Global Rank
Weekly post frequency
email address
URL to the contact page
Live link to Twitter username
Link to Facebook, YouTube and LinkedIn pages (when found – it doesn't find them all but you can add them as you find them).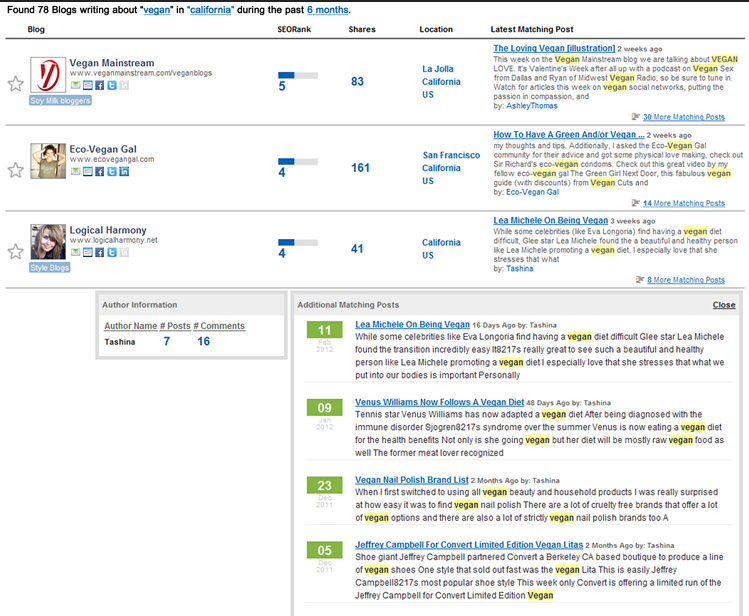 You can include the blog location by country, state, city, and their three proprietary numbers: SEOScore, SocialScore and their own High score that prioritizes blogs algorithmically.
From within the tool you can keep track of your interactions with specific authors on each blog, set one as your default contact for that blog, and make notes each time you communicate with the blog or to update the status of any pending requests. You can even set follow up reminders for yourself in the GroupHigh dashboard.
If you want to identify the best Brand Advocates you need GroupHigh. You can read more in this review of GroupHigh on SmallBizTrends. For agencies and brands that can afford $7000 per user per year for live access plus $1200 per year for each additional user, GroupHigh is well worth the money – and half as expensive as the only other similar solution I have heard exists.
The following two tabs change content below.
Small Business Marketing Strategist
at
GrowMap
Gail Gardner is the founder of GrowMap.com. She is a Small Business Marketing Strategist who mentors small businesses, bloggers, and freelancers. After 23 years in the field with IBM and 5.5 years managing AdWords accounts, her focus shifted to small business marketing strategy. GrowMap.com is listed by Cision as a Top 100 Site for Marketers and has received three Small Business Influencer Awards from Small Business Trends. Named by D&B a Top 50 SMB Influencer on Twitter, you can follow Gail
@GrowMap
and on
LinkedIn
.
Latest posts by Gail Gardner (see all)