The success or failure of a business depends upon many factors. Such factors include the quality of the product or service; management;  pricing; and competition among others.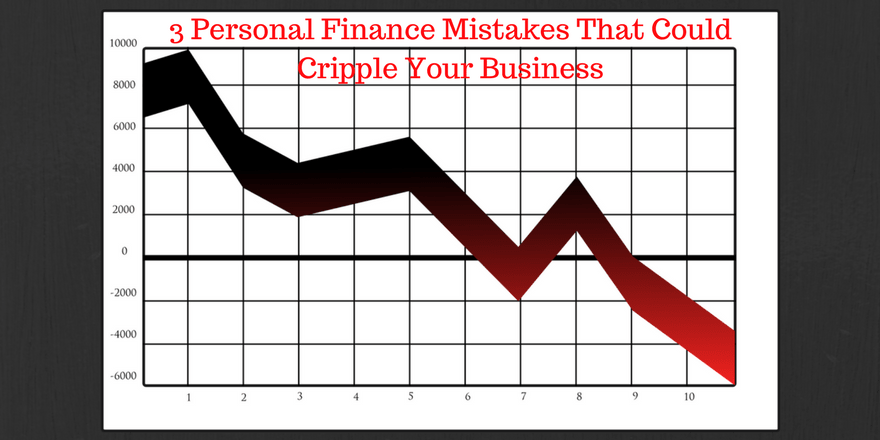 How Personal Finance Mistakes Harm Business Finances
A hidden but important factor that could determine the success or failure of a business is the personal finances of the owner. This piece provides insight into three personal finance issues that business owners must avoid to keep their businesses from financial woes.
1. Not separating personal finance from business finance
The biggest mistake that any business owner or entrepreneur can make is not separating personal finances from business finances.
Nobody is disputing the fact that you own the business and that you have 100% equity. Just know that mixing business funds with personal funds usually ends in disaster.
To start with, people who don't separate their business and personal finances won't be able to keep proper accounts of the business income, expenses, cash flow, and profits or losses.
Sadly, the lack of proper accounts will make it hard for you to build a credit profile for your business. It can also make it hard to obtain business loans or to attract valuable investors.
Combining personal finances with business finances often puts financial strain on the business.
Click To Tweet
Decide on how much you want to take home as the business owner, and pay yourself accordingly as if you were just another employee.
You should also avoid propping up the business with your personal funds. If you want to put some extra money from your personal accounts into the business, treat such funds as a loan to the business.
2. Not having enough insurance
The second personal finance pitfall that could cripple your business is not having insurance or not having enough insurance.
Insurance coverage can protect you and your business finances when life throws problems your way.
Click To Tweet
Ensure you have enough insurance to cover a life-saving medical procedure for a family member. Avoid being tempted to dip your hands into your business account to fund the expense.
Getting adequate insurance for key areas of your life can ensure that events in your personal life don't spill over to cause problems in your business finances.
As your business grows and succeeds, some unscrupulous folks will try to get a piece of you and you could end up facing lawsuits for even the simplest issues.
You'll be surprised at how frequently you'll be sued for personal injury claims and other frustrating issues when people believe that you are 'rich'.
Being proactive with third-party insurance claims will ensure that your business finances are protected in the event of any liability.
3. Getting into bad debt
Ideally, you should incorporate your business. Doing so gives it an identity that separates your personal finance from business finances.  (See point #1.)
Ensure that you do not enmesh yourself in a bad debt situation that could spoil your personal credit or force you to declare bankruptcy.
If you own a business (or have equity in a business), bad debts in your personal finances can destroy your credit.
Bad personal credit can make it difficult or impossible to qualify for business loans.
Click To Tweet
In addition, people tend to make questionable decisions to use business funds to pay personal debts. That does not end well for the debtor or the business.
Worst case, if you are forced to declare bankruptcy, all your assets will be sold to satisfy your creditors. This will probably include your equity in the business.
Avoid These Business and Personal Finance Mistakes
Save
The following two tabs change content below.
Dana Davis
Dana Davis focuses on small business and the use of gifts to show appreciation in relationships. She researches gifts of all kinds and especially personalized and engraved executive gifts for ExecGiftsBlog.com.
Latest posts by Dana Davis (see all)